Events Today 5:30 - JH Football vs Sarcoxie 5:30 - JH Volleyball @ Pleasant Hope *A Game followed by B Game *Masks are required when entering and going to the restrooms *No concession stand will be available *Game will be played at 303 N. Main, Pleasant Hope, MO 65725


A message from the Booster Club: The next Booster Club Meeting is Wednesday, September 16, at 6:00pm in the High School Cafeteria.


The latest PCHS/PCMS Parent Newsletter is out! This edition gives information about Chromebook pickup, Open House, and the Lawrence Co. Immunization Clinic
https://www.smore.com/fk4z3


‪Booster Club meeting Tuesday, July 21st 7pm in the high school cafeteria. Everyone is invited to attend!! Community members, parents of MS and HS athletes, and anyone else that would like to come!! ‬

At this time, we regret to inform you that Pierce City will NOT be having Summer School this year. We look forward to seeing everyone in August! More information will be coming at the end of July on reentry guidelines that we will be following when students come back to school

There is still time to sign up for Summer School!!! Call 417-476-2555 with any questions. Forms are available online or in the Superintendent's Office.

Mercy will be at the high school on June 25th, from 1-4pm to offer $5 physicals for students that will be in grades 7-12 next year.

The PC Alumni are preparing for the All 1980's reunion with these events: Scanning & Reunion Registration Party 5/23, 9–1pm at 104 Commercial St. Pierce City PCHS ALL 80's Reunion 8/15 Register here: bit.ly/2VY3m9K Join the PCHS 1980's Alumni Facebook page here: bit.ly/2Y4Sutr

Meet the School Board Candidates tonight at 6:30 in the Gym. This event will be available through Facebook Livestream on the District Facebook page.

Just a reminder, we will have a school belonging pick-up and drop-off tomorrow from 9:30 am to 12:30 pm and 2:30-5:30 pm. This includes library books, school books, homework, chromebooks, and anything else you have. All social distancing guidelines will be followed.

Congratulations to our 2020 scholarship winners! Dane Moennig - Scott Thrasher Shelter Foundation Scholarship Logan Lakin - 1st State Bank Scholarship Hannah Bennett - Ozark Electric Scholarship

Senior Class of 2020 Graduation #greenpride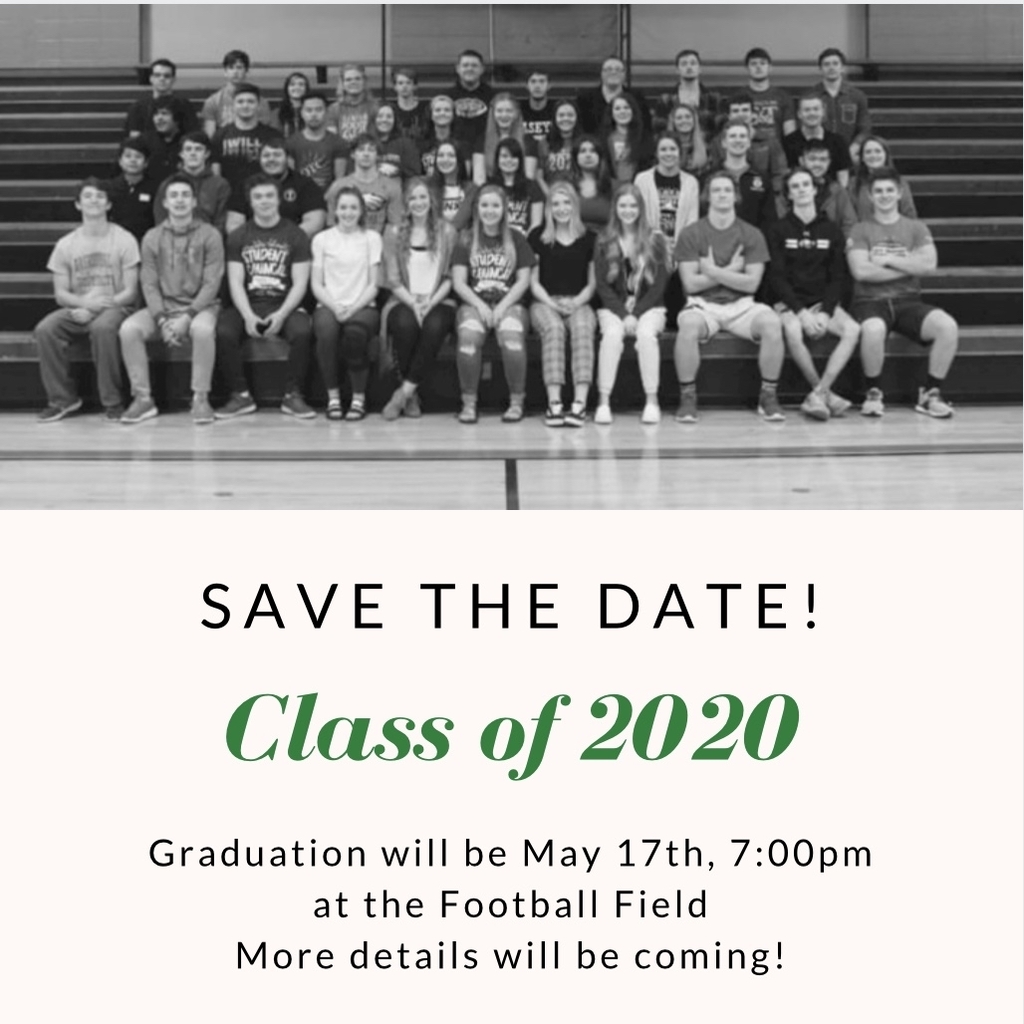 COVID-19 School Update

Any Sophomore or Junior interested in enrolling for a dual credit class next year please email Mrs. Lathem at
klathem1@pcschools.net
These courses are through Crowder College for the 2020-2021 school year.

School Closure Update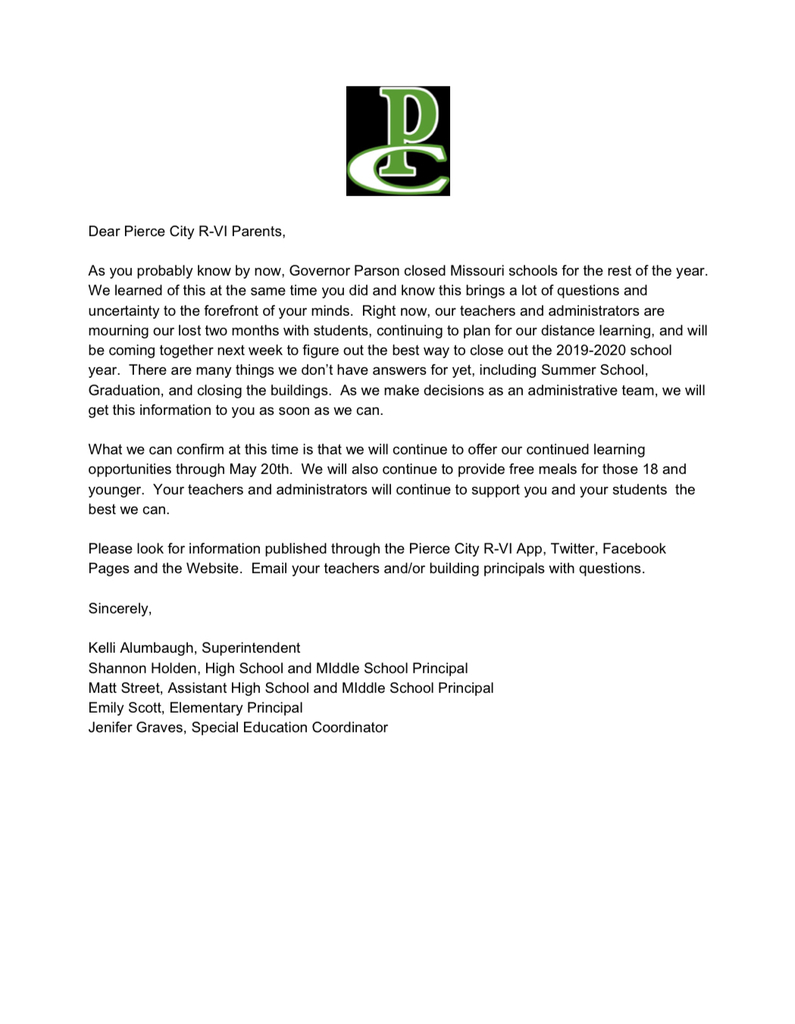 The Governor has ordered all schools to remain closed through the rest of the academic year. We will continue with learning packets and online instruction through the end of our school year, which is May 20th. We will share more information soon. Thank you for your patience!