Mercy will be at the high school on June 25th, from 1-4pm to offer $5 physicals for students that will be in grades 7-12 next year.

The PC Alumni are preparing for the All 1980's reunion with these events: Scanning & Reunion Registration Party 5/23, 9–1pm at 104 Commercial St. Pierce City PCHS ALL 80's Reunion 8/15 Register here: bit.ly/2VY3m9K Join the PCHS 1980's Alumni Facebook page here: bit.ly/2Y4Sutr

Meet the School Board Candidates tonight at 6:30 in the Gym. This event will be available through Facebook Livestream on the District Facebook page.

Just a reminder, we will have a school belonging pick-up and drop-off tomorrow from 9:30 am to 12:30 pm and 2:30-5:30 pm. This includes library books, school books, homework, chromebooks, and anything else you have. All social distancing guidelines will be followed.

Congratulations to our 2020 scholarship winners! Dane Moennig - Scott Thrasher Shelter Foundation Scholarship Logan Lakin - 1st State Bank Scholarship Hannah Bennett - Ozark Electric Scholarship

Senior Class of 2020 Graduation #greenpride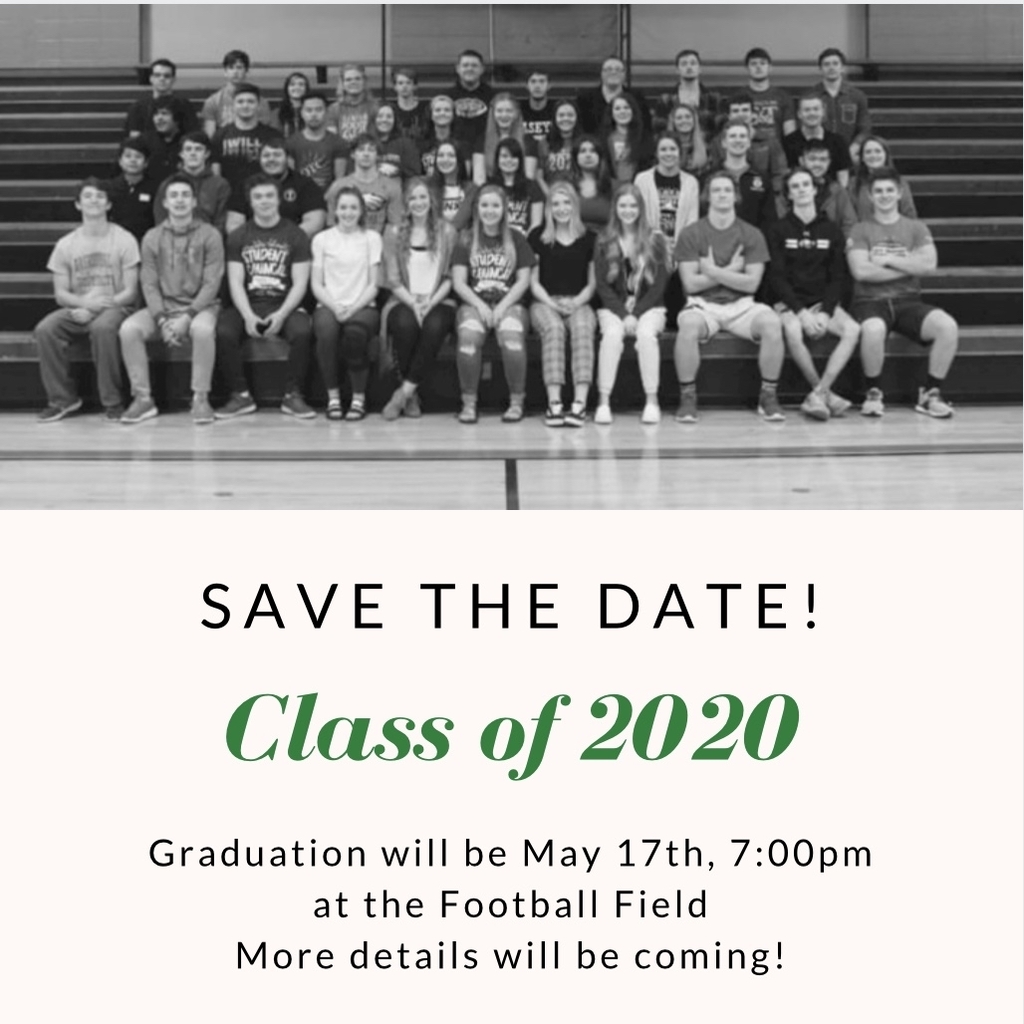 COVID-19 School Update

Any Sophomore or Junior interested in enrolling for a dual credit class next year please email Mrs. Lathem at
klathem1@pcschools.net
These courses are through Crowder College for the 2020-2021 school year.

School Closure Update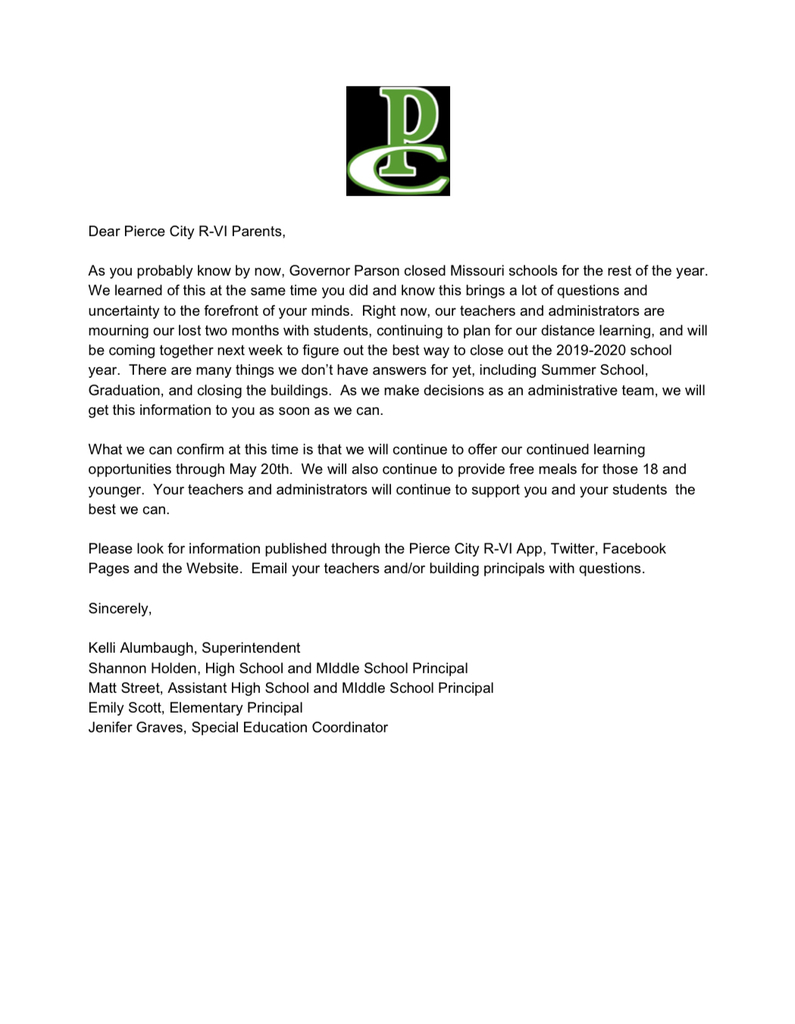 The Governor has ordered all schools to remain closed through the rest of the academic year. We will continue with learning packets and online instruction through the end of our school year, which is May 20th. We will share more information soon. Thank you for your patience!


Scholarships for Seniors: Due April 9: Shelter Insurance Foundation and Ozark Electric Cooperative Due April 16: New-Mac Electric Cooperative Doug Weatherly Community Blood Bank of the Ozarks Earle Staponski Pierce City Eagle Pride Decatur Lodge #400 1st State Bank

ATTENTION SENIORS: This is a message from Mrs. Lathem: The Shelter Insurance Scholarship is due Thursday 4/9. Mrs. Lathem will be at school to answer any questions on Thursday from 9:30-10:30 am or you can email her with any questions or concerns.

Due to Good Friday this week, the FREE Meals will be handed out Monday - Thursday from 9:30 - 10:30 am. Please call the school if you need deliveries.

Following the recommendations of the Health Department, PC Schools will be closed through April 24th. This continues to include all extracurricular activities. Meals will still be served Tuesday- Friday, 9:30-10:30 am.

I hope everyone is staying safe and healthy! Just a few updates: Meals will be served this week from 9:30-10:30 am. Learning packets are available for your child. School offices will be on a modified schedule starting tomorrow. Voicemails and emails will be responded to daily.

Don't forget, we are serving lunch from 11 to 11:30 today. Park in front of the HS Office and someone will bring you a bag with food prepared by our kitchen staff! This is free to all students. Call the school office if you can't pick it up, and someone will deliver it.

Following the recommendations of the Lawrence County Health Department, Pierce City Schools will be closed through April 3rd. This includes all extracurricular activities. We appreciate your patience and understanding during this strange time. We will be communicating updates in the near future, so again, thank you for your patience. Stay safe!

All extra-curricular activities, including practice, meetings, events, & competitions have been cancelled until at least Monday, April 6th.

The softball jamboree scheduled for today has been postponed to tomorrow due to weather.